Be prepared for your trip
Consider some essential and often overlooked subjects when preparing and packing for your trip.
Got questions?
If you plan a backpacking, hiking, river rafting trip, or another adventure trip in the Brooks Range, we can assist you with trip preparation, specific access locations, and other necessary details. 
Accessing Public Lands
The public lands in Alaska's Arctic are popular destinations for many adventurers. Some National Parks may require premits or have specific guidelines about campfires, etc, so it is important to plan appropriately.You can find details about hiking, rafting, and camping in these regions on their respective websites:
Need a food or supply drop during your journey?
We can arrange to drop off and/or pick up supplies to assist you on your journey or trip. We have several know locations where we can land, or it may be possible to do a drop from the air in some circumstances.   Air drops of resupplies are not allowed in the any of the National Parks.
Need some gear for your trip?
If you do not have your own equipment you can rent gear from Charlie Jago at Arctic River Guides in Fairbanks.  They can help outfit you with the correct gear for the rivers and for the flight. (907) 699-7801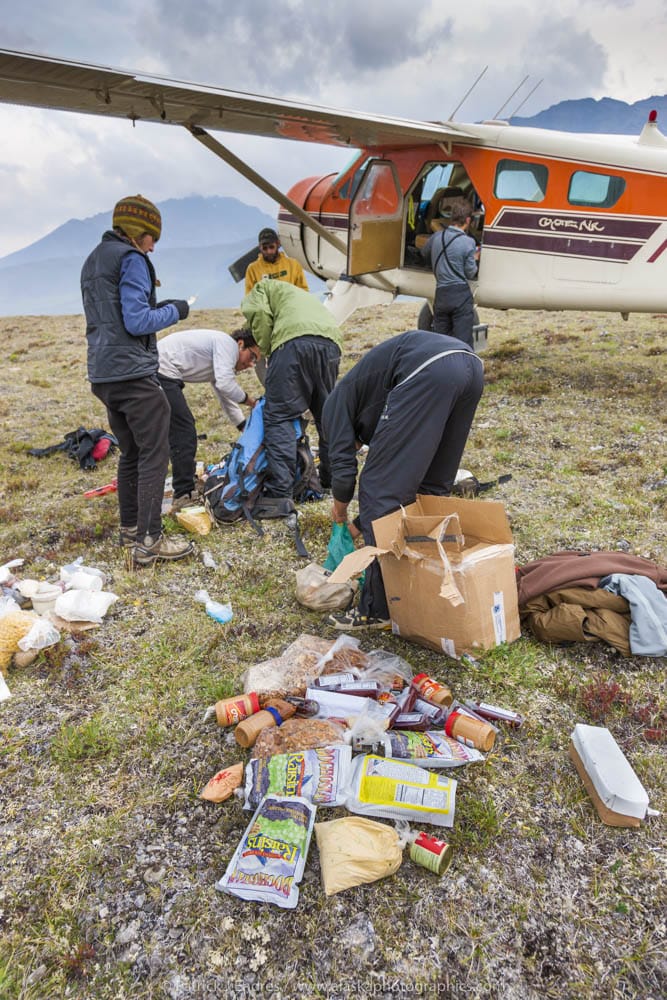 Very few groups go into the back-country without some form of communication. If you plan to take one, the Brooks Range geography and the far northern latitude of the Arctic present some challenges. Also, remember having these devices does not ensure rescue nor make up for lack of skill. You should check your communication device, either Sat Phone or Inreach, daily to make sure there has not been an inadvertent SOS. Based on our experience, we recommend the following units.
Iridium Satellite Phone 9505 or 9555
From our local experience, this unit offers the most reliable communication in Alaska's Arctic. Phones can be purchased or rented from several companies and are available for rent locally in Fairbanks at Radio Fairbanks (907) 452-1049, just ask for Vicki, or from Fairbanks Satellite Phone
VHF Yaesu Aviator Pro radios
Aircraft VHF radios are also an option. However, these are strictly line of sight radios, and work only when you can see or hear an aircraft. The Yaesu Aviator Pro radios versions are very small, rugged, and have clear audio.
Garmin InReach
Garmin Inreach devices have become very popular. They are cost-effective and reliable. They do have limitations though. Please make sure you have well-informed emergency contacts listed when registering your device. These people will be called if you activate your SOS either intentionally or unintentionally.
Although Global Star Telephones are a satellite telephone, their coverage in the Brooks Range and northern Alaska is spotty and unreliable; we, therefore, do not recommend them. Although new, popular, and reasonably priced, Spot checkers utilize the same satellite system as Global Star and do not have good coverage in Northern Alaska. Both false activation and several instances of failed programmed message transmission have led to confusion for family or friends at home. We don't recommend them.
Clothing
Temperature extremes in the Brooks Range occur all 12 months of the year. We see temperatures near 90 and below freezing during June through August. So it is best to plan for all conditions. As with all backcountry travel, we recommend that you dress in layers.
Wool and/or Polypro clothing is a must, especially as first-layer clothing. Our family is divided on the appropriate clothing. We use all of the following on our own trips
KLIM
WoolX
Mosquito Protection
Bug Shirts: We all wear the Ultimate Bug Shirt. These shirts are available online and are the best ones on the market. They are comfortable, durable, and work.
Bug Repellent: We find that 100% DEET is the most effective. We have tried many others and found them ineffective.
Bear Encounter Prevention
KEEP A CLEAN CAMP
LET BEARS KNOW YOU ARE THERE
Park Service link on bear safety
Bear Barrels
Bear barrels are required for all visitors to the National Parks and Preserves in Alaska. Regardless of your opinion on these containers, they are required, and the park service will ticket you if you are not using them.
Bear bells and tripwires
The old-timers in Alaska often strung up cans around their camps to alert them of intruders. It has proved an effective method of alerting you to the presence of a bear. It is good to alert a bear that you are in the area in the converse way, and bear bells are one way to do this. We endorse both methods.
Air Horn
Although we have not found much information on air horns, they get our strong endorsement. They are loud and certainly startle anything, including your campmates. They also have no real dangerous side effects, they can be used in the dark, from within your tent, and they don't require one hitting a target. We outfit our kids with them when they make trips.
Bear Encounter Protection
Guns: The often asked question: Should I bring a gun? There is no easy answer to this question. Generally, we do not recommend that people bring guns unless they are well practiced with their use and safe operation. Guns are of little help when you are in a tent.
Hand-held marine flares: Hand-held marine flares are a great tool for wilderness use. They are an effective bear deterrent and can also be used as a beacon for rescuers in an emergency. Hand-held flares are effective because they affect more than one of the bear's senses – sight, smell, and hearing. This is the preferred bear deterrent used by bear viewing guides on the Alaska coast. Choose a flare that ignites by pulling a string rather than by striking. Be careful not to drop flares in dry conditions until they are fully extinguished, as they can be a fire hazard if not hand-held.
Bear Spray: We recommend that groups buy bear spray and practice using it before going into the backcountry. Bear spray is of little help when you are in the tent. Accidental discharge of pepper spray is not uncommon. To prevent this, we recommend using a proper holster with your pepper spray canister. One that completely locks or covers the top of the canister is best. Like in the photo here. Links about Bear Spray and Guns
Bear fences: Bear fences are a relatively new item used in the Brooks Range. Several groups have used them with good results. But their new status and relatively limited use make it difficult to say that they are reliable or effective. They are another tool in the toolbox. Articles about bear fences
Leave No Trace 7 Principles
Plan Ahead and Prepare
Travel and Camp on Durable Surfaces
Dispose of Waste Properly
Leave What You Find
Minimize Campfire Impacts
Respect Wildlife
Be Considerate of Other Visitors
These principles were established by the Leave No Trace Center for Outdoor Ethics and built on work by the US Forest Service, National Park Service, and Bureau of Land Management in the mid-1980s. This relationship continues today. The principles are based on and informed by scientific research in the fields of recreation ecology and human dimensions of natural resources. Take a look at the science behind the principles on the Leave No Trace website.
Human Waste Disposal
What to do with your poo? It is best to bury your poo in a shallow hole in the tundra, well away from water sources and the campsite. This requires a small trowel or shovel, and if you forget one, we sell plastic trowels and really cool I-Poods (an aluminum folding trowel) at our Coldfoot office.
A friend of ours turned us on to the idea of carrying a paper bag (small) with each person to put their toilet paper in. In the evenings, when the groups have a small campfire going, everyone drops their bag into the fire and bye-bye toilet paper. If you do not burn your paper, please bring it out with all the rest of your trash. Toilet paper does not degrade quickly in the Arctic, and Wet Wipes last for years. No one wants to camp next to a pile of dirty toilet paper from the last camper.
Traveling with HazMat
The FAA classifies the following items as hazardous materials and requires HazMat paperwork before we can fly with them.   All containers must be in excellent condition, free of dents, creases and looses or cracked tops.  Hazmat must be in approved containers.  No White gas in water bottles. We have the following items for sale in our Coldfoot office.
Coleman fuel (white gas)
Isobutane cannisters
Bear spray
Forgotten items
Almost everything has been forgotten by someone at some time. Don't worry too much about this. If you have forgotten an item at home, we have a selection of gear that we can often rent or lend to you for your trip. The one thing you must not forget to bring is your sense of adventure.
Get in touch - we can answer your questions.